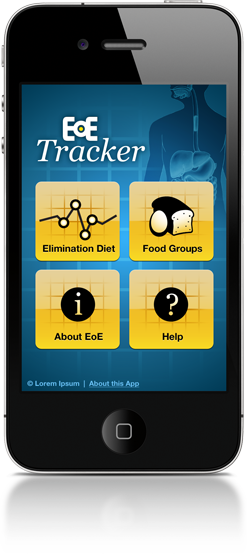 Mobile Tracking for EoE Relief
Eosinophilic esophagitis hurts. Even worse?
The frustration of not knowing what foods could trigger your symptoms.
The EoE Tracker app can help! By guiding you through an elimination diet, EoE Tracker helps you track symptoms and eliminate potential problem foods. Results go directly to your doctor, so you can discuss remedies and start enjoying life again.
What is eosinophilic esophagitis (EoE)?
Learn more now
Download the App!
Available on the App Store

Scan the QR code with your smartphone to download EoE Tracker to your mobile Apple device.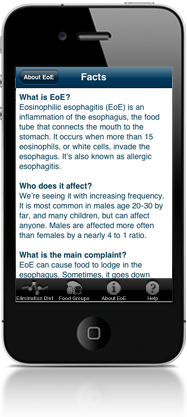 Better Understanding of EoE
A better understanding of EoE can lead to a quicker recovery. EoE Tracker helps you understand the causes and symptoms through videos, photos and text.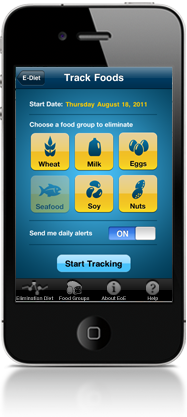 Quick & Easy Diet Tracking
Keeping a food journal can be a pain. EoE Tracker makes it easy by tracking one food group at a time. Optional daily reminders make it even easier to stay on target.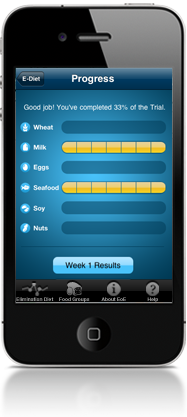 Comprehensive Symptom Tracking
EoE affects people in different ways. EoE Tracker helps you track a diverse list of symptoms on a scale of 1 to 5, for accurate documentation of how you're feeling day to day.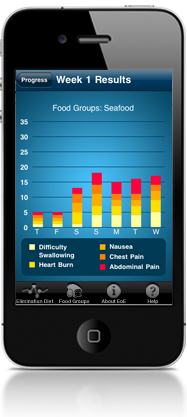 Shareable Results
Share the results of your elimination diet, even if you didn't complete the full program. EoE Tracker lets you check your progress at any time, and send the results directly to your doctor.
What is eosinophilic esophogitis (EoE)?
Eosinophilic esophagitis, also known as allergic esophagitis or EoE, is an inflammation of the esophagus (the tube that connects the mouth to the stomach). It occurs when white cells invade the esophagus, which can lead to swallowing difficulty, chest pain, abdominal pain, heartburn and nausea. Causes of EoE include excess stomach acid, infection, oral medications and allergies. If left untreated, EoE can permanently damage the esophagus. While EoE can affect anyone, it's most common in males ages 20 to 30.

Find the EoE Tracker at the App Store!